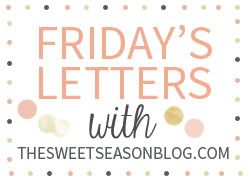 Well, I guess she is on vacation and not having the link today, but I'll link in spirit!
Dear Friday, I'm glad that you're here, because that means Tyler is grilling steak tonight. Yum.
Dear yesterday, I'm glad that you are over because that means I finally got on the ball and started the name change process....oh, you know, an entire month and a week after we were married. But I'm not too happy about the driver's license picture, even though I tried so very hard to finally have a good picture, I still ended up looking like the overly attached girlfriend. Oh, and I'll be 27 next time I need to renew it. That's almost 30. Let's just let that sink in for a bit...
Dear weekend, I'm pretty stoked because we'll be volunteering for base camp for a mission organization I went with 4 years ago. We're hoping to have a good time and see some old faces, make friends with some new faces, laugh, have fun, and more importantly have a serious time of preparation for those about to go out and serve.
Dear husband, do you think this will be the first night since we've been married that we don't get to sleep in the same room?
Dear Olive (my car), why do you have an air conditioning leak? I really want to put more freeon in you so that it won't feel like 100+ degrees while I drive you around town (
or even hotter since you are a dark colored car
), but I know that you'll just leak it out within a matter of 2 days. But it is nice to know that I have my own personal sauna for any time that I
don't
really want one. Thanks for stayin' faithful, Olive.
Dear coffee readers, check out my pages that I've recently updated! I've done some work to make them more organized and interesting - and I now have an About Me page which is titled "The Coffee Darlings."
Bring on the weekend!