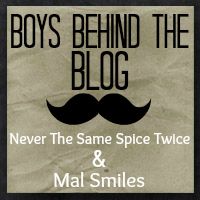 Once again we are linking up with Boys Behind the Blog!
This is such a fun link up every month that get's the guys involved - and its really pretty easy to do as well! I look forward to the link up because there's almost always one question that brings forth an unexpected answer from my hubster, so its nice to get to know him more in the process too!
This month's questions are geared toward St. Patty's and basketball...so let's hear what Tyler has to say!
1. What's your lucky number?
64 - because of Nintendo 64.
I married a dork. But I love that dork and the things like this that crack me up.
2. Do you have a lucky charm?
I thought I was your lucky charm?
3. Do you fill out a bracket for March Madness? Who do you want to win?
Nope. I don't really watch basketball.
To be honest we really aren't sure if said bracket is meant for college or pro basketball. Feel free to fill us in.
4. March 10th is "Middle Name Pride Day." What's your middle name?