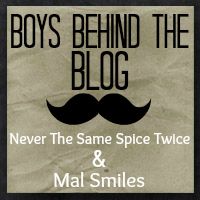 Its time once again for The Boys Behind the Blog link up! We've done this for two months now, and it is really fun getting to involve the guy in the blog. Well, fun for me anyway. ;)
Thanks for stopping by to read a little more about the man, the boy, the adventurer behind my blog!
There's Tyler, carryin' a log.
Would you believe me if I told you that is the caption he wanted me to put?
The phrase a joke inspired by this video, I wasn't going to write it, and he seemed disappointed.
My friends and I now always say "There's Tyler, (insert whatever Tyler is doing in the same voice as MANtage."
1. Who is your favorite band/musician?
I don't have one. I like listening to the Katt and NPR.
(I thought this would be easy, it seriously took 5 minutes to get an answer besides "I don't have one" out of him. And to answer his question more specifically, he has recently been into Daft Punk.)
2. What was your first CD/tape?
Probably the Lion King soundtrack. I don't know...
Aww, the Lion King. Such a great soundtrack.
Is that where you secretly became a master at this face?
3. Who was your first concert?
Bet they didn't look like this anymore when you saw them...
4. What is your favorite Thanksgiving food?
5. Finish the sentence: I am thankful for...
This picture wasn't taken long after we officially became a couple three years ago yesterday! Love you, T!
Thanks for tuning in to the latest episode of Tyler behind the blog, where short answers mean everything!